I already have shared with you, guys, some of my favorite leather loose-fitting trousers, but now let's continue with another huge trend this winter's: wide leg trousers & slouchy.
Both types of trousers are known for their typical wide voluminous legs, which can be somewhat challenging to style.
So how are we gonna slay slouchy trousers without looking clumsy or feeling inelegant?
And how are we gonna wear wide leg trousers without looking overweight?
WHAT ARE WIDE LEG TROUSERS CALLED
There are many types of wide leg trousers and there are also a bunch of names and categories, but the difference between them is not always clear.
In reality, different names for wide leg trousers are interchangeably used in different e-shops.
1. WIDE LEG TROUSERS
Wide leg trousers are typically straight cut and loose-fitting.
2. PALAZZO TROUSERS
Palazzo trousers, on the other hand, are extremely wide and they end up at the bottom looking a lot like a wide maxi skirt.
3. CULOTTES
Culottes have a typical knee-length and they look a lot like midi skirts.
You'll find them also named as long Bermuda shorts.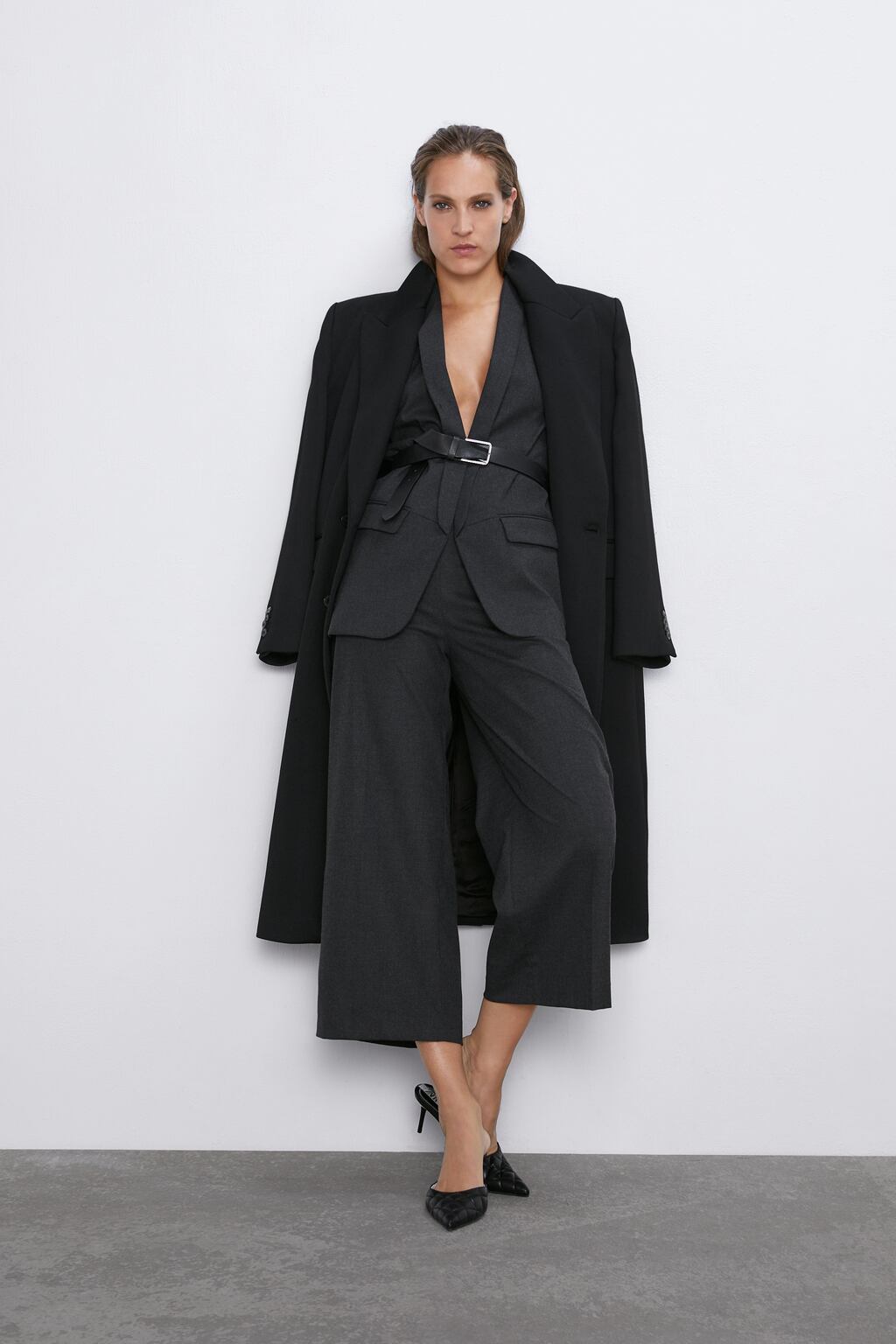 4. GAUCHO TROUSERS
Gaucho pants look a lot like culottes from design with the difference that gauchos are longer and look like cropped pants.
You'll find them often also under the name Culottes.
5. SLOUCHY TROUSERS
Slouchy trousers can be very easily recognized by their extremely voluminous legs and their tighter ankles.
ARE WIDE LEG TROUSERS STILL IN STYLE FOR 2019-2020
If you open any e-shop, let's say, Zara e-shop, write 'slouchy trousers' or 'wide leg trousers' in the search bar and hit enter, you will find literally dozens of choices and colors to select from.
Not only are wide leg trousers back for good, they are the king of street style and they will make you feel like a style pro.
I've put some of my favorites on the list below.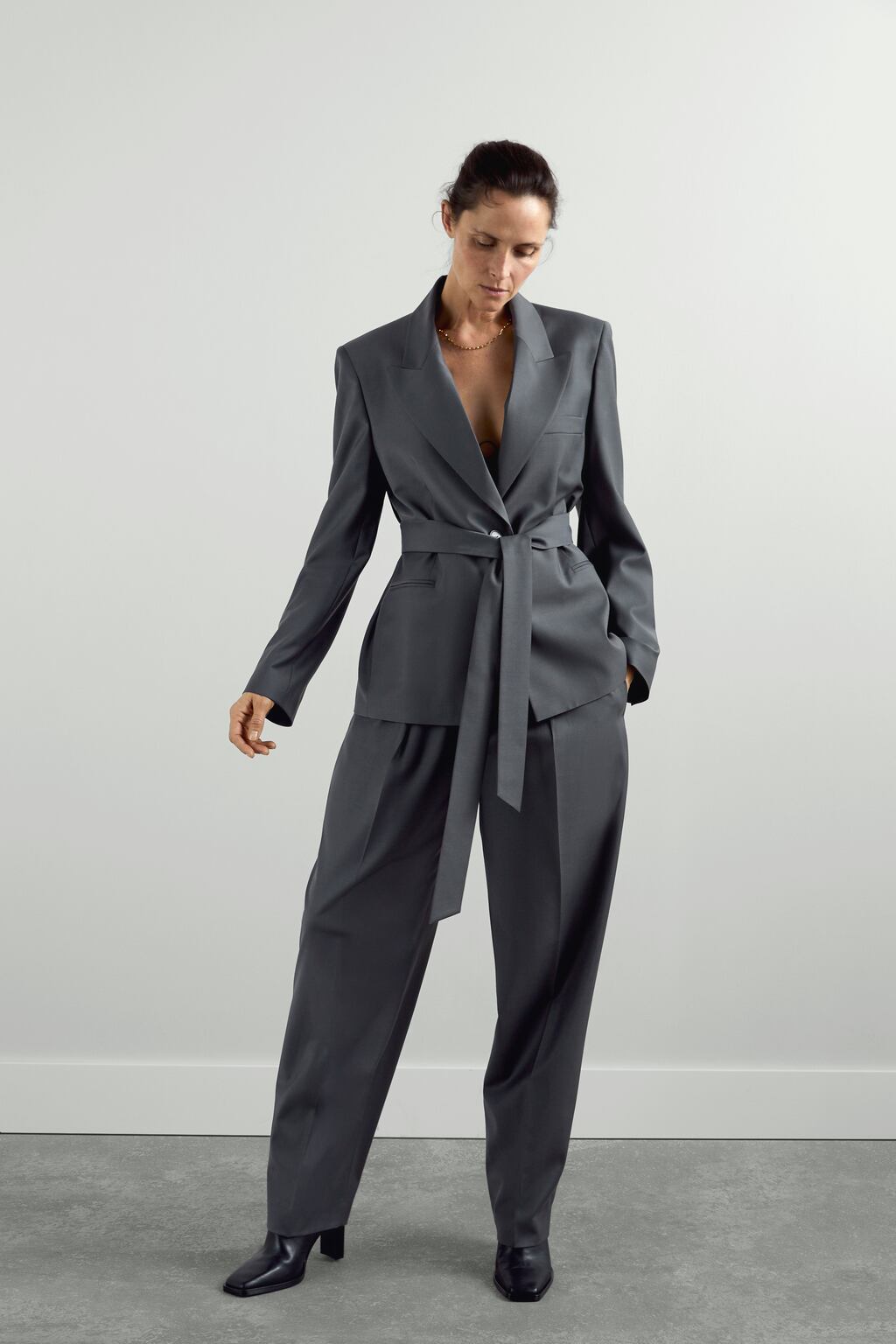 WHAT SHOES TO WEAR WITH WIDE LEG TROUSERS
Many types of shoes can work very well with wide leg trousers, depending on the occasion and the season.
From flats and sandals to chunky wedges in summer and from sneakers to pumps and ankle boots in winter.
Pointed pumps look great, cause they literally pop out in front of the trousers.
Chunky platforms, will give a more retro vibe.
On the other hand, chunky sneakers paired together with wide leg trousers are a huge trend and will get you street style ready.
HOW TO WEAR WIDE LEG TROUSERS WITHOUT LOOKING OVERWEIGHT
Since wide leg trousers and slouchy trousers have voluminous legs, it is better to wear them with a top that is slim-fitting or even a cropped top, if the trousers are high-waist.
A simple white tank top or a white slim-fitting turtleneck top would make the outfit comfortable for the whole day.
A more feminine top would make the outfit perfect for a cocktail.
On the other hand, for trousers with more delicate fabrics, like chiffon or silk, an airy blouse with slightly puffed sleeves would give a romantic Parisian flair.
Delicate fabrics fall more straight and therefore, you can also combine them with knitted sweaters and make a perfect street style look without extra pounds.
Wide leg trousers look also great with blazers or shirts.
HOW TO WEAR WIDE LEG TROUSERS WITHOUT LOOKING SHORTER
The best way to make your legs look longer is to opt for full-length wide leg trousers and if it's necessary, head to a tailor, AFTER you decide what shoes you'll wear them with.
You'll have to cut them to the point just before they touch the ground.
If you opt for a cropped length, then try to keep it to the ankle -not shorter.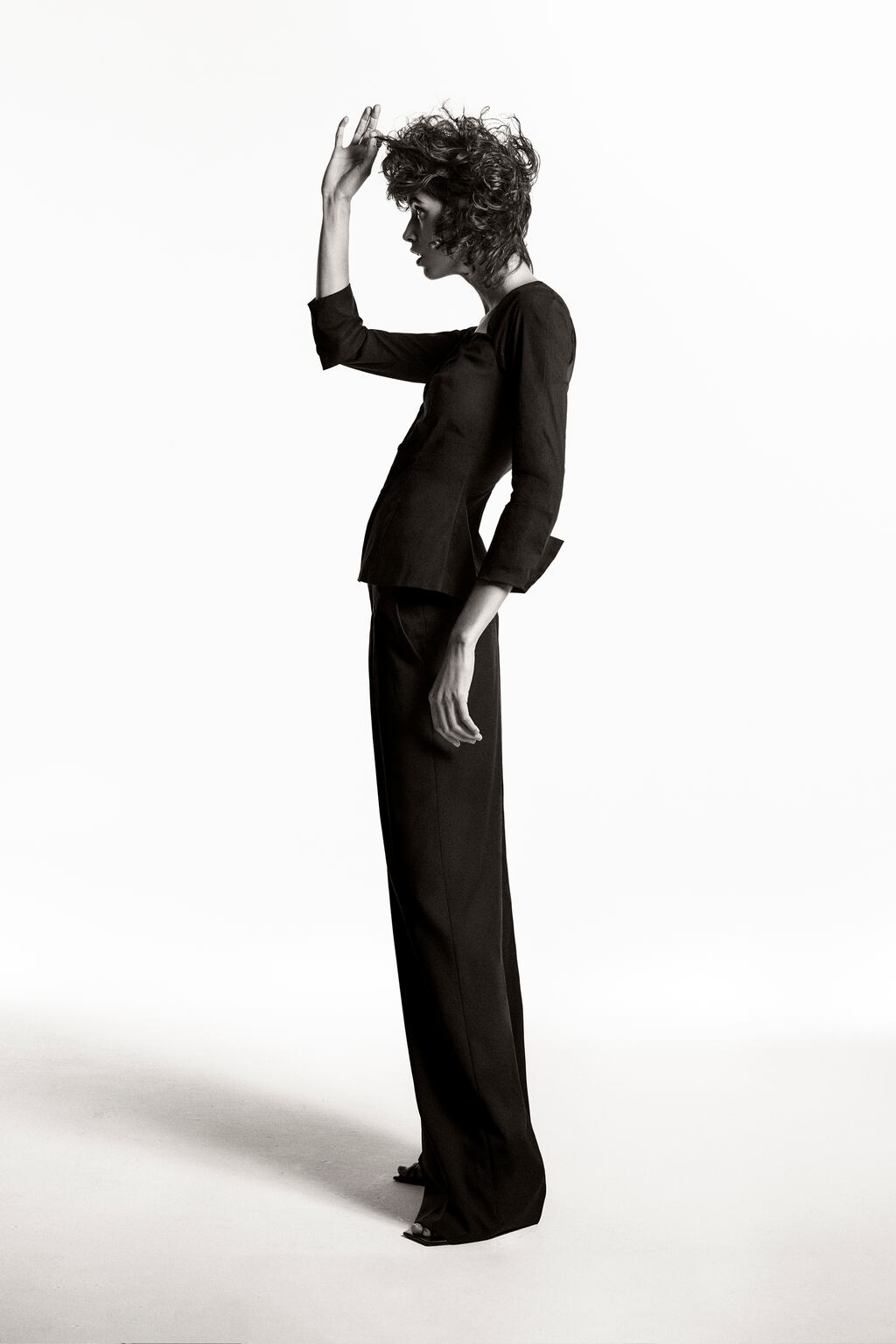 HOW TO WEAR SLOUCHY TROUSERS WITHOUT LOOKING CLUMSY
Slouchy trousers are the most challenging to style because of their extremely voluminous legs.
Fortunately, they have one big benefit: they look incredibly good with heels!
Though, they can look equally good with flats or sneakers and a blazer for example, feminine style shoes will give a more polished touch.
If you are the type of lady who prefers a more dressy style in your outfits, you can combine slouchy trousers with dressier shoe styles, like heeled booties, pumps or heeled sandals.
I am wearing here a more jeans-like version of slouchy trousers in black color, but there are many other cut in a slightly more polished way and look also great.
I paired it with these heeled transparent booties from Zara, which are my sexiest shoes at the moment, a black bag from Furla and a cold shoulders black top.
The slouchy style of the trousers dresses down the sexiness of the top, while the top adds a playful element to the whole outfit.
Styling Pro Tip: Fold up the bottom of your trousers legs to create a thin small cuff, so that your skin is visible, but don't make it smooth and perfect.
Which type of trousers do you like the most? Let me know in the comments below!
If you like this post or know someone else that will find it useful, go ahead and share it!
Love,
Jenny, x