Yes! The time of warm weather, relaxing mood, and summer expectations, is finally here. Somewhere between long mind-relieving gardening sessions and warm open-air balcony film nights, we have finally the right to dream. Dream of romantic spring days and breezy summer afternoons with white dresses flowing in the air. Keep reading to get a taste of the most ethereal, romantic, broderie, and cottage-core white dresses on the web and get yourself a white dress for spring, that will make you feel like a fairy. Find also the most breathtaking wedding guest floral dresses for a spring wedding this spring.
*This post contains affiliate/commissionable links.
COTTAGE-CORE & BOHEMIAN WHITE DRESSES FOR SPRING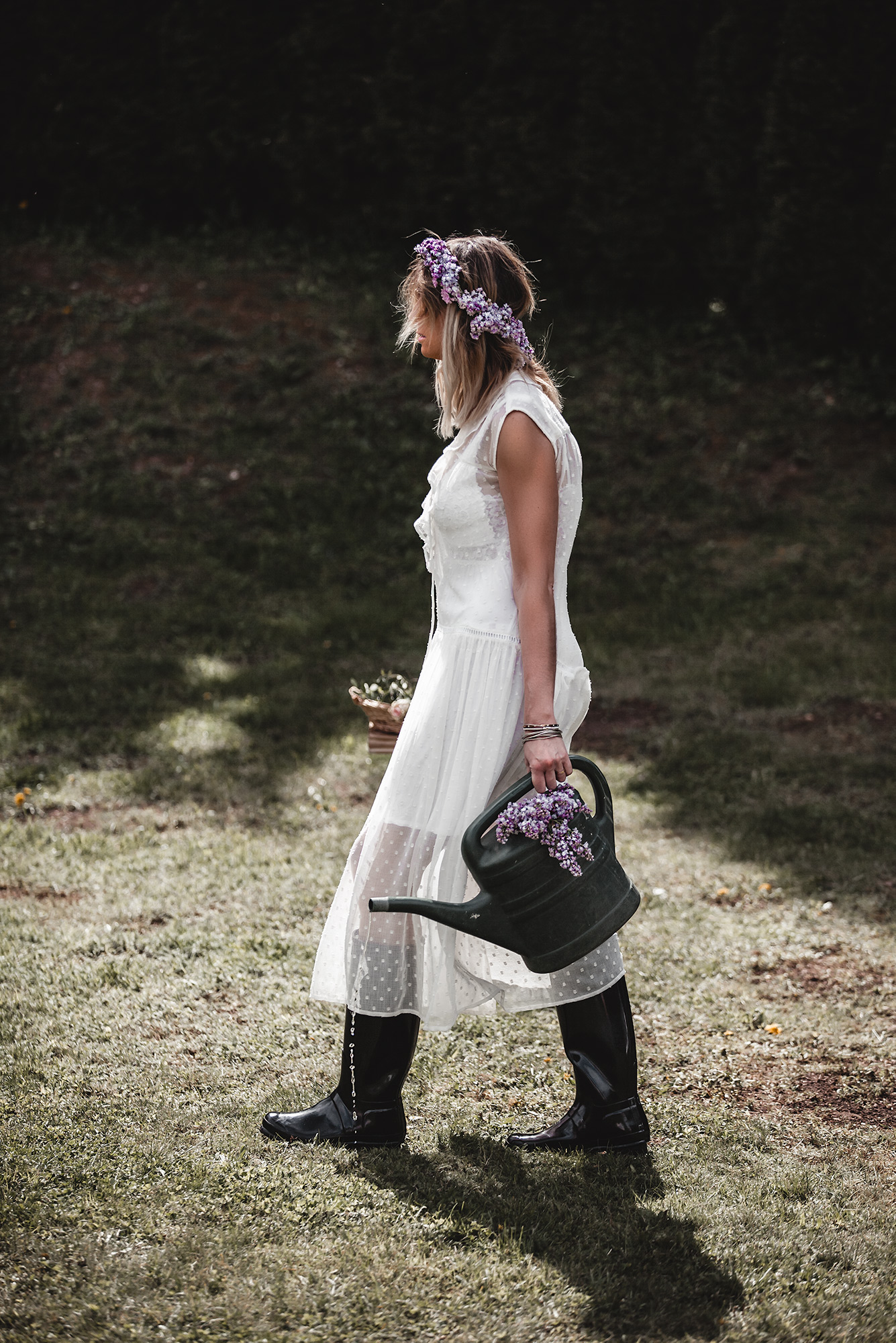 COTTAGE-CORE FLORAL DRESSES FOR SPRING (CASUAL + WEDDING)
HIGH-END FLORAL DRESSES FOR SPRING WEDDING
Since the season of wedding invitations is also ahead, floral is the best choice instead of white. If you are looking for a dress that makes a difference, here are some of the most beautiful floral wedding guest spring dresses of higher quality:
WHAT TO WEAR UNDER A TRANSPARENT WHITE DRESS
Because of the fact that most white dresses are transparent, many of them have their own undergarment. My white dress in the photos had also its own, but it was long and I wanted the dress to be transparent at the legs and other areas that's why I combined it on the inside with a lace-detail nightdress. This is a very good solution to wear a transparent dress or a beach dress away from the beach.
WHAT COLOR SLIP TO WEAR UNDER A WHITE DRESS
Most colors of slips will be visible under a white dress, even a white slip itself. If you want your underwear to be invisible under a white dress, the only suitable color for a slip is the skin color or also called nude color. Choose the color that matches your skin the most.
WHERE TO BUY SPRING DRESSES
For me the most beautiful floral and romantic spring dresses -of good quality- especially if you are looking for what to wear to a spring wedding are undoubtedly found at Revolve:
Floral & cottage-core spring dresses: Revolve
White spring dresses: Revolve
Casual white dresses: Asos, Mango, Nordstream.
Casual floral dresses: Asos
High-end white dresses: Fwrd, LuisaViaRoma, Farfetch.
WHAT SHOES TO WEAR WITH SPRING DRESSES
When it comes to pairing a white dress with shoes there are many options depending on the occasion.
Heels: If you want to wear the dress for a special occasion, a night out, a date, or a business meeting, a pair of heels is the perfect way to dress your outfit up and make it look chic and elegant.
Sandals: Choose a pair of sandals for a casual look, for vacation, for everyday errands, or for a coffee with friends.
Sneakers: You can also wear a white dress with a pair of sneakers to create a more comfortable and street-style look.
Flats: This year ballet flats and loafers have their moment so it is the perfect instance for your to pair them with your white dress and create a feminine and Parisian look.
Espadrilles: A very popular choice for spring and summer since they are comfortable and they also add extra height.
Boots: Cowboys boots or suede boots will give a bohemian look to your white dress, while rubber boots look unexpectedly cute, they give an instant cottage-core feeling to the outfit and offer a nice alternative to wearing a white dress for spring.
WHAT COLORS OF SHOES TO WEAR WITH SPRING DRESSES
A white dress is like a white canvas. It is open to creativity, colors, and accessories. If you opt for a more conventional but elegant look, you can pair easily your white dress for spring with white, black, nude, silver, and metallic hues.
Happy spring!
Love, Jenny.