Hi, there! If you're wondering what clothes to pack for a trip to Venice and what to wear or need some interesting tips about your trip, then keep reading! Since I have been there already three times, I know exactly what the weather looks like in different seasons and how the feeling is. Here are 10 things you should know before planning a trip to Venice:
1. PREPARE TO SP€ND A LOT
To put your feet on the ground
Venice is actually very close to South Austria where we live, only about 2 – 2 1/2 hours driveway! The first time we drove to Venice, I couldn't believe how fast we were there. I began to wonder why on earth we don't do these day trips more often when Venice is THAT close?! Then very soon I realized the answer: Venice is very expensive! Alone the Italian road pricing is pretty high. To make it more clear, to drive from Villach (South Austria) to Venice, about 250 km away, only the costs for the highway reach an amount of 40 € (both directions).
Then you have to figure out where you will park your car, cause apparently you are not going to need it since the only roads in Venice are made of water! Usually, we park our car in one of the central parking garages immediately after crossing the long bridge (Ponte Della Liberta). Parking costs between 25-40 € per day depending on the daily/hourly rates of each parking garage. Be prepared to hand over your car key, because these garages are really stuffed, some of them are also small-sized and they need the keys to do the necessary maneuvers when another car has to leave. Don't worry though, there is also a handful of Ferraris and Porsches parked there, so personally that made me feel a bit better in a way : P.
Anyway, that makes us an average of about 70-80 € … just to put your feet on the ground of Venice.
Vaporetto – the most expensive public transportation ticket worldwide (?)
Vaporetto is the public transportation of Venice, something like a water bus. If you decide to move by Vaporetto you have to consider the additional costs of the tickets: 7.50 € for a single ticket or 20 € for a day ticket p e r family member. Yeap. No family tickets here. Every family member older than 6 years has to pay. To that you have to add the costs of food and coffee, neither of which is cheap. Fair enough actually if you want to enjoy your meal right on the waterfront while watching the gondolas riding next to you! On the other hand, a cappuccino right on the famous Piazza San Marco costs 9 €! So, I think you get the idea by now!
Stay on budget
Still, it's Venice and we can't have enough of it!! Therefore, you can try to stay within your budget by avoiding eating or drinking coffee near the most mainstream touristic attractions. However, you'd better not forget tip number 1: Be psychologically prepared to spend a lllooot.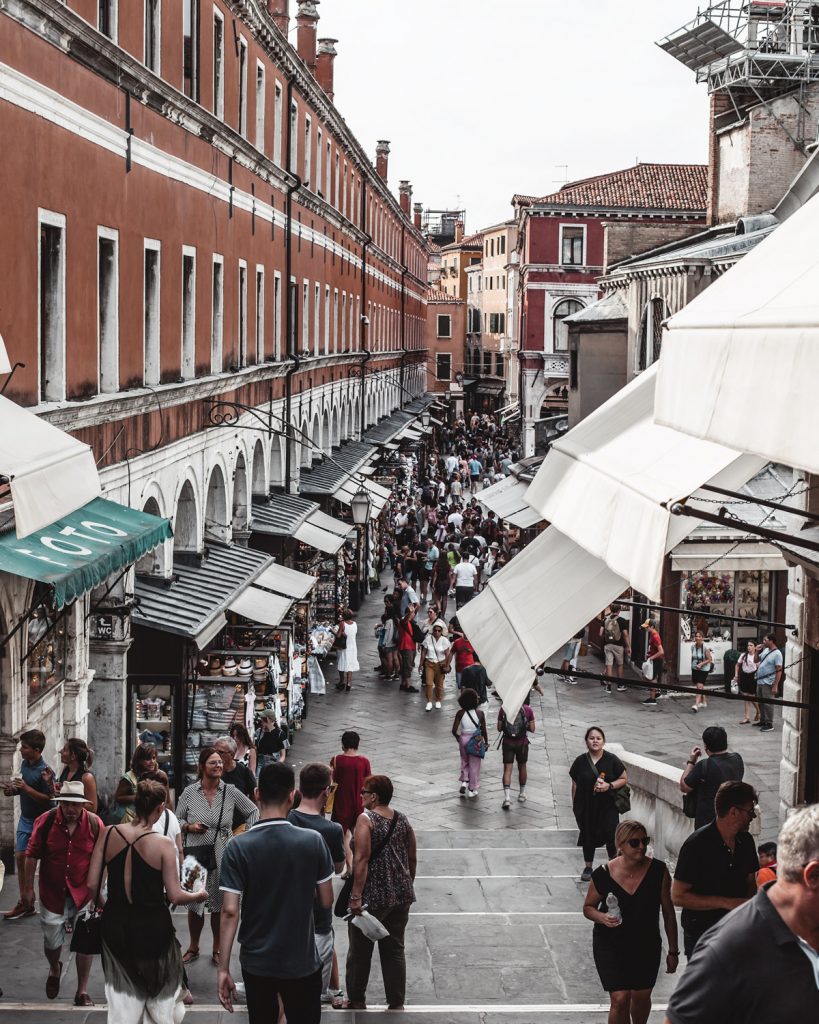 2. SHARE A GONDOLA RIDE WITH FRIENDS OR OTHER TOURISTS
If you'd like to enjoy a romantic gondola ride just to have this experience checked off your must-do bucket list, you can choose one of the many gondolas around Venice, there are plenty. The cost is about 80-100 € and the trip is usually no longer than 30 minutes I would say. One time we went to Venice to meet friends having their vacation there and we decided to have a ride with a gondola all together and shared the cost.
It was so much fun! Most of the gondoliers do not sing actually while rowing the gondola, but the last time I visited Venice in August it did happen to hear one of them singing and it was impressive! : ) If you travel alone or with your mate you can share the ride with other tourists. There will be plenty willing to split this cost. So, tip number 2: Save money by sharing a gondola ride.
3. GET LOST IN VENICE
Always crowded
Based on my experience, Venice is crowded every single time you visit it across all seasons of the year. Actually, two visits out of the three were in August and I am definite it wasn't something more dramatic than I had expected. More or less I found the amount of tourists I expect to find at all must-go destinations around the globe. It wasn't more dramatic than in Florence or in Rome or in Santorini in summer.
Get off your track
The funniest observation we made was that Venice was crowded only on the main paths that led to important sightseeing. We decided to get lost by strolling around in small alleys and finding out where they led. Not only we managed to discover beautiful spots, peaceful and not-crowded. On the contrary, we actually were most of the time alone (!!) while Venice is full of tourists in the middle of August. We made our photos, we took time to sit by the canals and drink and eat some snacks we bought from a local shop. We enjoyed peacefully the view of the Grand Canal and of the smaller canals we found.
Take time to sit by the canals and watch the heavy water traffic
If you take the time to sit down somewhere along the canals, you will probably see lots of funny things on the water. Venice like all the places in this world has all services, police, fire brigade, ambulance, garbage collection, and whatever you can imagine …except in Venice they are all on water. It looks like a very big effort to organize all these supply chains but for the Italians, it is business as usual. They are used to it and they manage to do their daily tasks incredibly well. They seem to have some kind of blind understanding when on the water. No matter how crowded it is, water buses, water taxis, gondolas, private boats, police boats, etc., they all know what and how to do it without crushing one over the other!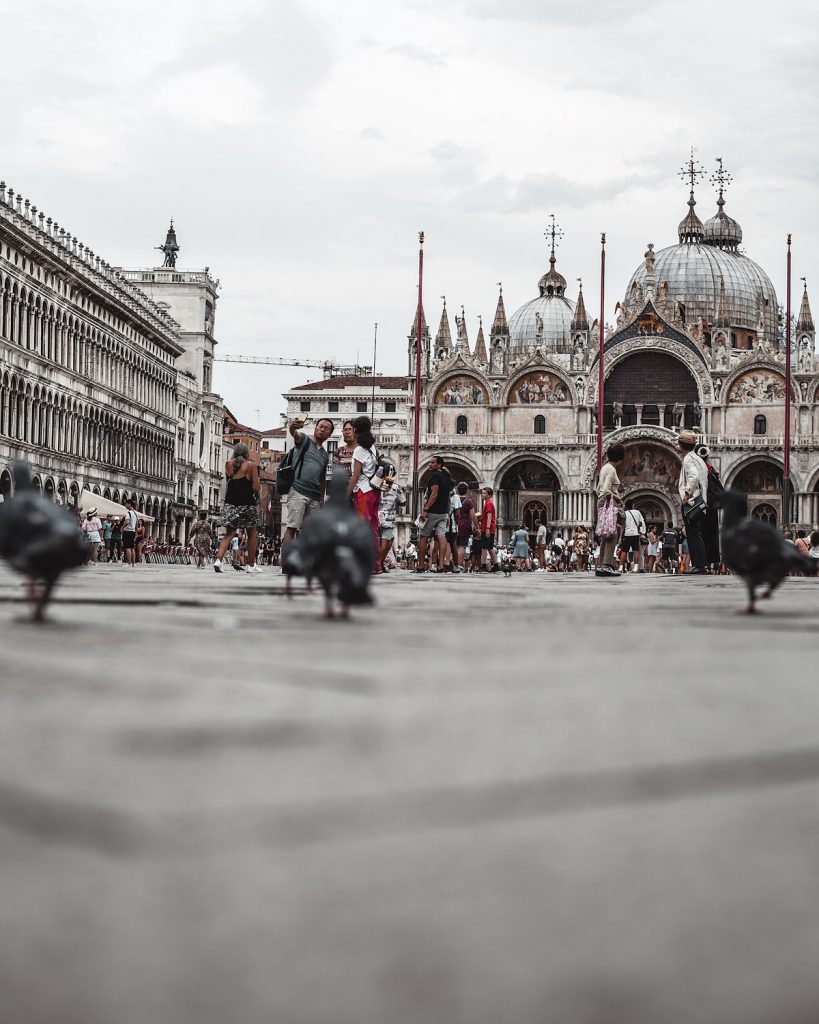 Wisdom of the crowd
After enjoying getting lost on purpose, to find our way back we just …followed the crowd. People are like a river over-floating the only alleys not filled with water in Venice and you just have to go with the flow. They brought us successfully back on track and later all the way back to our car. So, if you get lost in Venice/can't find your way back to your car/railway station/don't get along well with Italian signs, remember tip number 3: Follow the human river.
4. SLEEP BY A CANAL
Personally, I think a visit to Venice pays more off if you stay at least 2-3 days. The first time I visited Venice and planned my stay for 3 days, I had only one precondition for booking the room: It had to be located right beside a canal with a balcony or a window facing the canal. No negotiations. And I actually made it and it was not at all expensive. I would say it was medium-priced. Back then we had paid around 80 €. Nowadays with Airbnb available for bookings, I think that should be totally achievable. It doesn't have to be right on the Grand Canal, Venice is full of smaller canals. So many years later, I assure you, I can still remember all the sounds coming from the open window slowly waking me up on that first morning in Venice!! These sounds will escort my memory forever! So, tip number 4: It's worth it to sleep by a canal.
5. WEAR SNEAKERS
These shoes are made for walking
You have two choices for exploring Venice: on foot or by Vaporetto. If you choose to move around on foot, you have to consider really loooong walking distances, so definitely good shoes, like sneakers, are advisable. This summer we visited Venice in August for a day and it was so hot that I thought I would be ok with my flat babouches. But, alas, since we hadn't been there for some time, I had forgotten how much walking Venice demands. On our way back the same evening I felt I needed to take them off and walk barefoot! Not only my feet were terribly aching, but I also destroyed my favorite pair of shoes. I fell for those flat natural babouches so much (see here and here how I style babouches)! So, tip number 5 for your trip to Venice: If you decide to explore it on foot, wear sneakers during the day.
These shoes are made for cocktail
Actually, sneakers are good during the day for exploring Venice, but for shorter distances, you could also wear a pair of high-heeled sandals if you plan a longer stay. For example, if you are staying overnight and head to a bar for a cocktail at the nearby area around your hotel and you don't need to walk that much, then you can also wear your favorite pair of high heels.
6. WEAR LACE, NOT STRIPES
I know some people feel somehow the urge to wear stripes when they visit Venice. I personally would avoid it. It reminds me of the iconic gondola drivers' traditional uniform, which is a black-and-white-striped T-Shirt and a black hat. See my photos and you'll notice it. Venice is so romantic that I can not think of a better choice than a lace top to accompany my outfits. A lace top can be very easily dressed up or down and it will make you feel like you were born for Venice! So, tip number 6: If you need some outfit inspiration for your trip to Venice, wear lace, not stripes.
7. WEAR AN EXTRA WARM JACKET IN WINTER
Real-feel shock
Among the times I visited Venice, those I enjoyed the most were during summer. If you decide, though, to visit it during winter, be prepared for much cold. Venice can get so windy that the real-feel temperature can really surprise you -negatively-. I was there at the end of December, it was actually one day before New Year's Eve. I remember clearly leaving Austria at temperatures around zero with a jacket that was perfectly suitable for our place and headed to Venice with temperatures around 10 degrees Celsius. 'Cool', I thought. 'It's gonna be pleasant'. Well, not really. When we reached Venice and we got on the Vaporetto I got shocked!!! I didn't know where to hide from the crazy cold wind, which made me feel like I was at the North Pole… Austria felt warmer…!
Fog of love
Nevertheless, Venice in winter gets a little bit foggy and it feels like every single light on the wet alleys is reflected right inside your soul. There is no way that you won't fall for Venice regardless of the season. I can't think of a more romantic place! So, tip number 7: If you take your trip to Venice in winter, wear an extra warm coat/jacket in winter. And you'll be fine!
8. WEAR COMFORTABLE CLOTHES IN VENICE
During the day, you are going to walk a lot, and especially in summer, you are going to sweat a lot. So, as much as you'd love to wear a perfect but uncomfortable dress, choose something comfortable instead. You are not going to regret it. You'd better leave all uncomfortable things for that cocktail we said before. So, tip number 8: Wear comfortable clothes during the day.
9. VENICE SUMMER PACKING LIST – DAY TRIP ESSENTIALS
If you plan a day trip to Venice and need some inspiration about what to wear or want to be prepared for your daily excursions during your stay, consider taking with you the following:
Sneakers.
Beach bag/tote bag/backpack. I had a big beach bag with the following essentials:
A long-sleeved jacket or a long-sleeved top. In case it gets chilly in the evening or after a storm.
A summery pair of shoes. Flats or flip-flops are lightweight enough to fit into a big bag and give you a break from sneakers if needed.
A scarf or a tee. If you plan to enter churches you must have your shoulders covered, so consider bringing with you a scarf. Otherwise, a normal T-shirt should be enough.
Sunglasses
Sunscreen
Anti-Insect spray
A bottle of water
Some snacks
10. VENICE SUMMER PACKING LIST – 3 DAY TRIP ESSENTIALS
If you prepare a longer trip to Venice and need some ideas of what to wear, here are some outfit essentials for packing:
All the day trip essentials from the previous list
Mix 'n match pieces
A pair of jeans/trousers
A pair of shorts/jean shorts
Dress
Evening bag
High-heeled sandals. For that cocktail!
A piece of lace. For the romantic souls that we have! : )
WHAT I CHOSE TO WEAR FOR MY TRIP TO VENICE
My last trip to Venice was in August and was pretty hot, so I decided to wear jeans shorts and a Tee. I had with me a cargo jacket (also a favorite autumn piece) in case of chilly weather or rain.
I also wanted to take with me a long-sleeved top in case the jacket was too warm and this lace top seemed to be the perfect match for Venice. Since it did rain late on the afternoon of that day and got a bit chilly, the long sleeves protected me from the breeze, while the top stayed very airy through its lace and comfortable.
A very important factor for choosing lace pieces is to still make you feel comfortable in your own skin by wearing them. Some of them are extremely uncomfortable.
I like to wear my white lace top with a black bra. I almost always wear black bras (and never white), so the white lace top wouldn't be an exception to that. Though it matches perfectly with a white or nude bra also, I find it a bit too conventional for my taste, plus I love the texture that the black color gives to parts of the lace.
Anzeige/ad | Adlinks included
Lace Top Choices: Zara 1, Zara 2, Asos 1, Asos 2
T-shirt: Armani Exchange
Cargo jacket choices: Asos 1, Topshop 1, Topshop 2
Jean shorts: Abercrombie & Fitch
Bag: Furla
Love, Jenny. x