Do you remember that time when we wore dresses and suits only with heels or stilettos? You can forget it. Why? Fortunately, sneakers are here to give us a convenient alternative to ALL our looks. You can wear sneakers with anything and there are millions of pictures on Instagram, Pinterest, and Google, to prove it. In fact, sneakers have brought a small fashion revolution into our lives and they are now a must-have for our wardrobe and not only the athletic one. So let me show you the 6 latest trends and the 27 hottest trendy sneakers for women to buy right now for 2023, to transform any outfit into a statement, without sacrificing neither comfort nor style.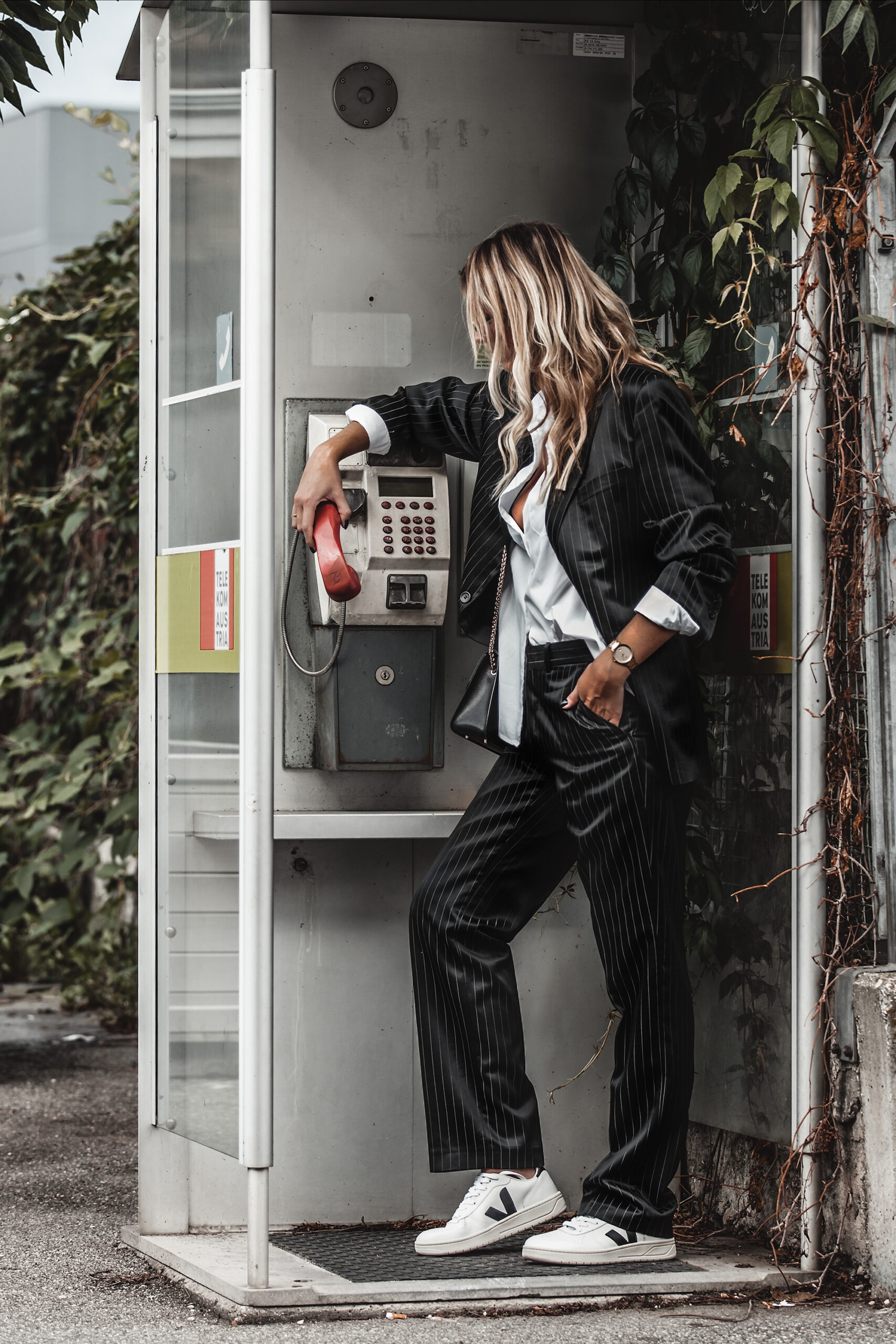 *This post contains affiliate/commissionable links.
SNEAKERS TRENDS 2023 ON A GLANCE
Sustainable Sneakers
Retro-Inspired, Dad Shoes, Y2K
Performance Shoes: Hiking/Trekking Shoes, Running Shoes
White, Cream & Light-Colored Sneakers
Platform Sneakers
Bright-Colored Sneakers
Here are the key trends. Now, let's delve deeper to explore additional details about each sneaker trend, along with my top favorite selections for each.
1. SUSTAINABLE TRENDY SNEAKERS FOR WOMEN
Sustainable sneakers remain increasingly popular in 2023 and are set to be more stylish and environmentally friendly than ever before. They are made of recycled materials, vegan leathers, and low-waste production processes ensuring a minimal environmental impact.
In fact, almost every brand nowadays produces sustainable designs following the trends. Nike has a huge variety of sustainable options, and Adidas has its Stan Smith Primegreen collection. Puma has also released some sustainable options. Veja is leading the way with its commitment to sustainable materials and production methods, with favorites for this year their Venturi sneakers, and the V-10.
NIKE AIR MAX FLYKNIT RACER
A sustainable running shoe from Nike, with a beautiful cut and a nice texture. Its color palette and silhouette are really easy to style.
How to wear in 2023: With black leggings and a blazer.
VEJA VENTURI
I really like this Veja sneaker model, the Venturi. It has a beautiful wavy sole and it's on-trend because of its nice white-beige-cream hues, as spotted on many fashion girls.
How to wear in 2023: With beige chino pants, and cropped leather brown puffer.
VEJA CAMPO CHROME-FREE
Campo, with its raised sole, the black side logo, and the green detail, makes an interesting alternative to the classic V-10s and can elevate every outfit. For example, check here how I wear the V-10s with a blazer and a sequin dress and how you can also wear the Campo.
How to wear in 2023: With a suit and a white T-shirt.
Where to Buy: Revolve, Farfetch, Adidas
ADIDAS HER VEGAN SHOES STAN SMITH
The classic Stan Smith, this time vegan. I had a pair of green Stan Smiths in high school and I will always have a place for them in my heart, but this orange pop is perfect for spring and summer.
How to wear in 2023: With turn-up hem jeans & leather jacket.
Where to Buy: FWRD, LuisaViaRoma, Nike, Adidas
---
2. RETRO-INSPIRED TRENDY SNEAKERS FOR WOMEN
Retro, Dad Shoes, Vintage, Y2K – no matter which, if it exudes an air of nostalgia, then it is 2023-approved.
ADIDAS SAMBA OG – MAYBE THE TRENDIEST SNEAKERS FOR WOMEN IN 2023
For all the sneakerheads out there, keep your eyes on the Adidas Samba OG. After being sighted on fashion-forward celebrities like Kendall Jenner, Bella Hadid, Emily Ratajkowski, Kaia Gerber, and Rihanna in late 2022 or early 2023, this retro, football-inspired sneaker is already making waves in the industry. Other than that, its popularity is reflected in the numerous IG posts featuring the Sambas as a key element in cool outfits. From street style to the catwalk, the versatile Adidas Samba sneakers are everywhere.

The Samba has been around for 74 years, making it one of Adidas' best-selling & timeless sneakers. Its minimalism and its quite basic form promise an ideal easy-to-style twist to everyday casual outfits, reasonably priced. The Samba's signature three stripes, rounded toe, and tan rubberized sole make it a standout style, and its preppy retro aesthetic is perfectly in line with the current fashion trends. In other words, one of the best sneakers for 2023. With them, you just can't go wrong.

How to wear in 2023: With a maxi denim skirt.

Where to Buy Adidas Samba: Revolve, Adidas, Farfetch

Samba is getting easily sold out, at the moment of writing at Revolve there is the option to preorder. I also managed to find some vegan pairs on Amazon, and on Farfetch in the men's collection. Tip: This model is unisex, so look also at the men's collection, you have many more possibilities to find it available there. Also, check the reviews, many reviewers stated they had to size up.
ADIDAS GAZELLE
While the Adidas Samba sneakers may be difficult to acquire, you can still achieve a similar style with a pair of Gazelle sneakers, which are conveniently available in a full range of sizes and a huge variety of different vibrant colors. The Adidas Gazelle is a timeless sneaker that has been in demand for years. The 1968 shoe's original purpose was as an athletic shoe, but it quickly became a fashion essential. Its simple yet stylish design follows Samba's signature three stripes and rounded toe and they carry the same vibe. Fashion celebrities including Kate Moss, Naomi Campbell, and Gigi Hadid all favored Gazelle. Keep an eye on the variety of colors of the Gazelle models on LuisaViaRoma.
How to wear Gazelle in 2023: With visible socks.
Where to Buy Gazelle: LuisaViaRoma, Adidas
CONVERSE CHUCK 70 ALL STAR HI – ALL TIME TRENDY SNEAKERS FOR WOMEN
When it comes to the retro sneaker trend, this classic vintage sneaker with the 80s high-school feeling, the high-top Converse is just incomparable. You will be surprised by the creativity it has inspired. Seriously. There is literally no outfit in this world that hasn't been paired with them, even wedding dresses, suits, and gowns. A pair in black is the ultimate versatile shoe to pair with anything from jeans to a maxi skirt. They are timeless and never go out of style. They are a must-have shoe.
How to wear in 2023: With wide-leg pants & bomber jacket.
NEW BALANCE 530
Dad's shoes are making their way back into the fashion scene. Love it or hate it this trend is here to stay. Together with our moms' jeans and a casual t-shirt, they take us back on a nostalgic trip to the 80s. Chunky, oversized, but also comfortable, and unique, this shoe has a character and makes a statement. The classic New Balance 550 was one of the most popular sneakers for the last couple of years and will remain also in 2023, but the 530 is a nice alternative.
How to wear in 2023: With blazer & trousers.
REEBOK C 85 VINTAGE
Another must-have 80s high-school feeling pair of shoes, that remains popular and goes well with all our styles. Comfortable and affordable, it is just perfect for every day.
How to wear in 2023: With cargo pants.
NEW BALANCE POUCH-DETAIL LACE-UP
I also love this retro version with the pouch on the lacing and the Y2K vibe.
How to wear in 2023: With straight-leg jeans and a T-shirt.
ADIDAS STAN SMITH + BALENCIAGA
Love at first sight was also this high-end vintage 'used' version of Adidas' iconic 'Stan Smith' sneakers but refreshed from Balenciaga.
How to wear in 2023: With maxi satin slip dress.
ADIDAS ORIGINALS FORUM 84
This low-top Forum 84 is designed with retro basketball straps, a signature characteristic found in the brand's high-top styles. Once again, I love the vintage feeling and the vibrant colors.
How to wear in 2023: With cargo mini skirt.
NIKE AIR JORDAN 14 RETRO LOW – SNEAKERS 2023 RELEASE
Experience 2023 high-speed with this sleek eye-catching interpretation of the shoe Michael Jordan wore during his sixth championship win. The metallic silver upper with the richly textured patent leather adds a touch of glamour. This pair is sure to turn heads, with onlookers stopping to catch a glimpse.
How to wear in 2023: With wide-leg full-length jeans.
---
3. PERFORMANCE TRENDY SNEAKERS FOR WOMEN
To put it simply, a performance shoe refers to any footwear intentionally created to enhance athletic performance in a particular sport or activity. The two most popular types of niched sneakers that became widely popular in the previous year and will remain popular in 2023, are hiking/trekking shoes and running shoes. These chunky styles are now favored not only by hikers or runners but also by sneakerheads who love street style and mix & match, as well. Popular brands here include Hoka, Salomon, Asics, and On.
HOKA CLIFTON 9 – RUNNING SHOES – SNEAKERS 2023 RELEASE
These chunky runner's shoes, Hokas, are incredibly comfortable and have become the new staple for coffee runs and fashion-forward casual outfits. This latest model, Clifton 9, is one of my favorites. Futuristic but practical, stylish but comfy, we wouldn't expect less from a brand that designs runner's shoes.
How to wear Hoka: With a floral dress.
Where to buy: Hoka, LuisaViaRoma, Farfetch, Nordstrom
SALOMON XT-6 OG – TREKKING/HIKING BOOTS
Maybe 2022's most awkward-to-the-eye trend. Chunky hiking boots feature thick soles and are the perfect way to make a statement. They are great for wearing on hikes or for a casual day out. In 2023, chunky performance shoes have become a staple in casual wear, and the Salomon XT-6 is a prime example of this trend. This shoe, originally made for hiking, offers both comfort and style, and it looks now appealing both inside and outside the gym. The Salomon XT-6 has been frequently spotted on the streets of NYC, favored by style icons, like Bella Hadid. These shoes offer an eccentric but popular urban style alternative for casual looks and street-style fans. Salomons have been on the rise throughout 2022. This trend is expected to remain popular in 2023 as more and more fashion lovers and sneakerheads are now drawn to performance silhouettes and are familiar with street-style outfits.
How to wear Salomon: With wide-leg trousers.
Where to buy: LuisaViaRoma, Fwrd, Nordstrom, Farfetch
ASICS GEL-KAYANO 14 – RUNNING SHOES – Y2K AESTHETIC
In the new year, specific silhouettes like the Asics Gel-Kayano are going to be popular. Not only is this a running shoe but it offers also a late 2000s retro aesthetic.
How to wear in 2023: With socks and a skirt.
ON CLOUDNOVA – RUNNING SHOES
These sneakers are currently getting sold fast at Revolve and it is impressive to see the increasing number of outfits on social media featuring them. The Cloudnova is a popular choice among On fans and is widely beloved for its comfort, style, and performance, seamlessly blending fashion and function.
How to wear in 2023: With joggers, a tank top, and an open button-up with stripes.
Where to Buy: Revolve, LuisaViaRoma, Nordstrom
NIKE INVINCIBLE 3 – RUNNING SHOES
A last favorite is the Nike Invincible 3 running shoe.
How to wear: With black leggings, a white tank top, and an open denim shirt.
---
4. WHITE, CREAM & LIGHT-COLORED TRENDY SNEAKERS FOR WOMEN
If you are wondering if white sneakers are still in style for 2023, the answer is yes. White sneakers are a wardrobe staple and will always stay relevant for your outfits, in 2023, though, they are getting an upgrade. From classic white sneakers to cream colors and pastel-colored pairs, all these styles will remain classic. If you are looking for a brand new pair of white sneakers in 2023, you can also consider light hues of cream and white or small minimalistic colored details. Below you will find some ideas.
NEW BALANCE RC30 – ONE OF THE FAVORITE TRENDIEST SNEAKERS FOR WOMEN
If you want to add a touch of sophistication to your outfit without going over the top, consider the RC30s sneakers. These shoes have a classic silhouette that pays tribute to the '70s with a sweet upper design. However, what sets them apart from other shoes is the ridged sole which gives them a unique look. Many buyers have praised these sneakers for being both retro-cool and comfortable, making them a great choice for any occasion.
How to wear: With a black maxi robe dress.
NIKE VOMERO 5
This practical, but neutral sneaker is made of a variety of mixed materials and patterns. Textiles, synthetic suede, and plastic accents all come together & create this impressive shoe that stands out in the crowd.
How to wear: With visible woolen/thick socks.
Vomero is difficult to get your hands on at the moment. At the time of writing, it was sold out on Nike but available on Farfetch.
Where to Buy Vomero 5:
Nike, Farfetch
NIKE AIR JORDAN 1 ELEVATE HIGH
One of the most iconic and timeless silhouettes in sneaker history, this time in an earth-color combination.
How to wear in 2023: With leather trousers.
---
5. PLATFORM TRENDY SNEAKERS FOR WOMEN
Platform sneakers are perfect for adding a bit of height and style to your look.
CONVERSE RUN STAR PLATFORM SNEAKERS
How to wear: With cropped jeans/pants or a midi skirt.
---
6. BRIGHT COLORED TRENDY SNEAKERS FOR WOMEN
Teal, emerald, and orange shades are also popular in 2023.
JORDAN AIR JORDAN 1 Mid SE
The color combination of these Jordans is impeccable.
How to wear: With leather joggers.
Love, Jenny.