Kids love to picnic and I also loved it as a child as far as I can remember. Yesterday was Mother's Day, so we decided to spend it by organizing a picnic with simple decor in our garden.
HOW TO SET A SIMPLE PICNIC DECOR IN YOUR GARDEN
I picked up a spot in the garden and we brought outside a few decorative elements, like a couple of throw pillows, a plaid, a wooden stool & a breakfast tray to serve as small tables, some lemonade with glasses, fruits, and bread. Instead of laying the classic picnic plaid on the grass, I used my new round jute rug, which is handmade and so cute.
What I like the most about this rug is that it is a passe-partout piece, it passes almost everywhere, from the entrance area to the kitchen and from the living room to the patio. Moreover, round rugs are a thing right now and I definitely am on a huge kick with them!
With all these elements the spot we prepared became at once so familiar and inviting to sit down and relax. The kids loved it!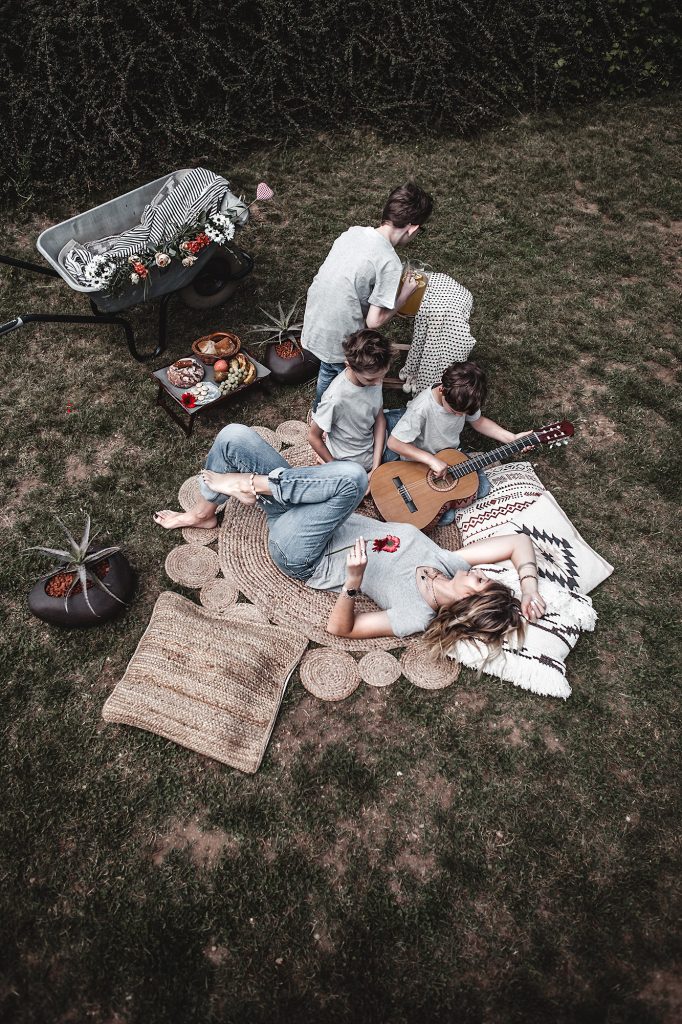 HAMMOCK
We also had some fun with our garden stroller, as you can see in the pictures, and with our new hammock! Since I was a little girl I have always wanted a hammock, and now that the one and only tree we have in the garden got big enough, my childhood dream finally came true! Haha! But since we only had one tree my husband had to figure out a way to replace the lack of the second tree and he did that with a very interesting construction.
So, we first had some fun with photo shooting and then we relaxed, drank, and ate. One of my sons also is learning to play the guitar, so he tried to amuse us. < 3
In the morning the kids surprised me with breakfast which they prepared alone and they brought me to bed. My husband filmed it and it was so fun watching it. You can see it on my IG stories or my Family Time Highlights.
How did you spend Mother's Day? Did you do something special with your family? Let me know in the comments!
Also, if you still haven't found something beautiful for your mother, check my gift guide for the best Mother's Day gift ideas, because every day is a good day to show mom some love and spark joy around.
xx! Love, Jenny.
---
SHOP THE POST