Summer is steadily going towards its end and it feels kind of happening fast right now. I caught myself already eyeing some fall pieces while sunbathing. Whether you also want some late summer pieces or to be on top of excellent fall finds and trends, I got you covered. Today you can shop from NA-KD with 15% off. Keep reading to see what I picked for me, and how to recreate a rock vibe outfit, plus get my code and shop with 15% off until Tuesday 11.08 at midnight.
THE HIGH WAIST DENIM
It's no secret that the right high waist jeans can be such a game-changer and so flattering for the figure because they define the waist. These ones are my favorite right now especially because of their color and their slightly washed look. I also love to turn up the hems and make them more cropped.
THE WASHED TANK TOP – ROCK VIBE
This tank top has also a slightly washed look and is made of a soft fabric, which makes it so comfortable and pleasant to wear. The best thing about it is the deep V-back, you know how much I love open backs. Moreover, I like that the washed look makes the perfect alternative to graphic Tees when you want to give a more rock vibe to your outfit without going overboard. Wear it with multiple layers of chains, a leather jacket, and a chain bag and you are ready for a rock-vibe evening cocktail.
THE STRAPPY KNOTTED SANDALS
Personally, I find that strappy sandals give the perfect touch to a summer outfit, whether you wear them with a dress, cropped jeans, shorts, or a skirt. Think about them as the summer version of boots, they help legs feel less naked or empty and make the outfit much more interesting. These ones I wear here are so different because they are made of suede, a material I love to wear, they have knots, which makes them super trendy, but most of all, I appreciate the fact that their straps are thick and not thin. This makes a big difference since it drives attention immediately to the shoes.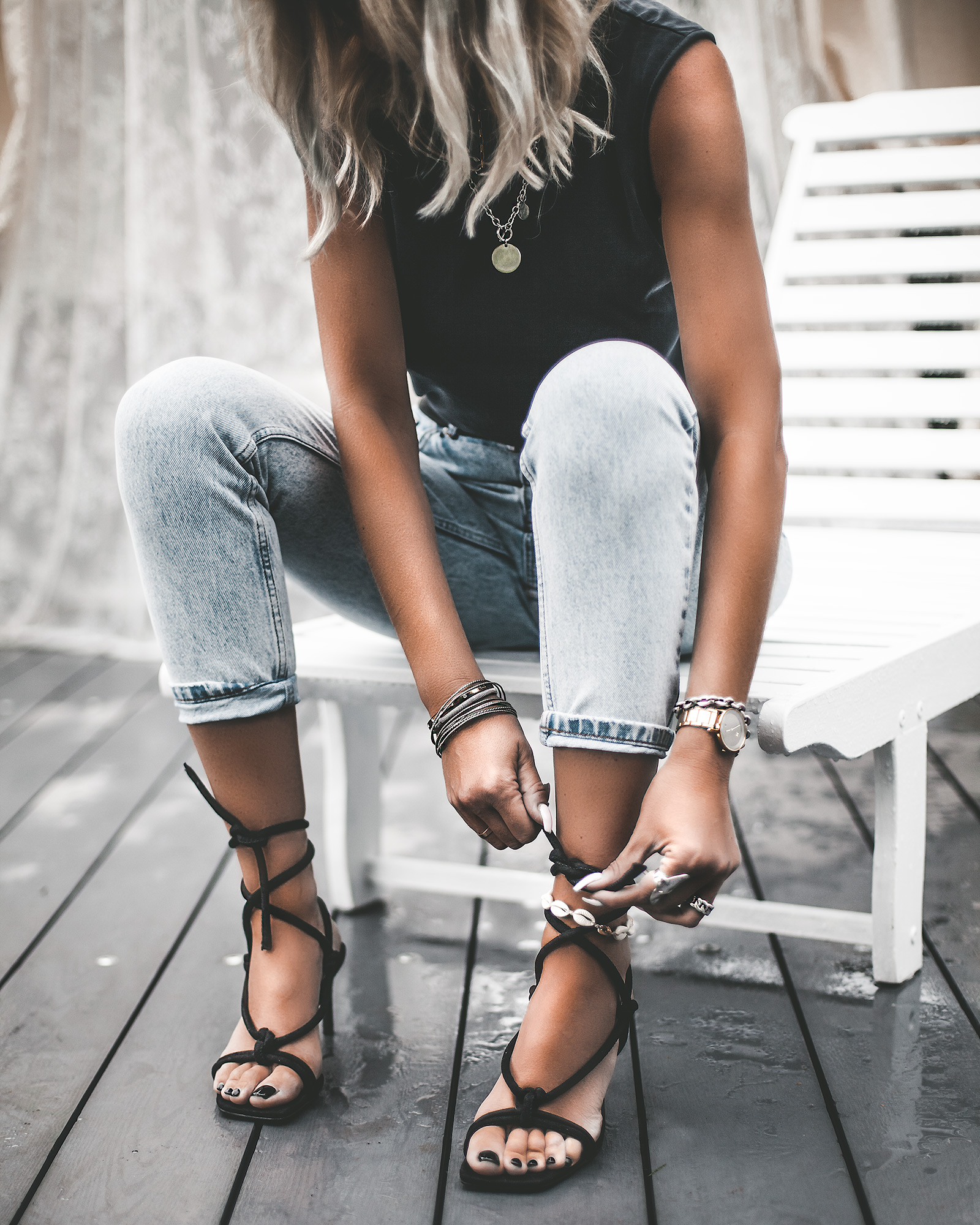 Anzeige/ad | Adlinks included
SHOP FROM NA-KD WITH 15% OFF
Shop with my code JENNYM15 today for 15% off your purchase at NA-KD, exclusive sales. I've linked you below all the things I love to wear, plus some of the cutest finds on their website right now. Totally in love with some sweaters, some of them are going to be sold out already in September, so I ordered them now!
Happy shopping and take care!
Love,
Jenny