It is scientifically proven that the clothing surface area in summer is inversely proportional to the temperature: As the temperature increases, our clothing surface area decreases. 🙂 Hands down, during hot summer days, I find myself avoiding pants and jeans constantly, no matter how much I love them. Thankfully, there are some representative examples of our favorite clothing items that we can easily wear even on hot days while maintaining the 'interior' temperature at a …pleasant level. Below you will find a collection of my favorite hot weather pants, as well as some breezy cutout bodysuits for this summer.
**Disclaimer: This post is sponsored, but all the views and opinions expressed in it are purely my own.**
FAVORITE HOT WEATHER PANTS
One of those examples is these cargo satin pants I found, lightweight and budget-friendly, I can wear them throughout the summer, night and day.
They have a relaxed fit, the contact with the skin is very pleasant and the fabric stays cool and airy.
They have a high waist and a perfect fit on the backside. In the front, they look a bit like high waist pleated pants. They are long enough but you can scrunch up the legs or you can leave them down and straight.
I am also very fond of the champagne color, which elevates the satin fabric and makes the pants look more elegant.
I am wearing an M size (1.80 cm tall) and they fit me exactly but I would rather have sized up. Personally, I think for this type of pants the more relaxed the fabric sits around the legs the better it looks and I wouldn't mind also if they sat a bit lower at the waist.
The exact name of the pants is Seleste Drawstring Jogger Pant and I found them at Revolve.
*This post contains affiliate/commissionable links.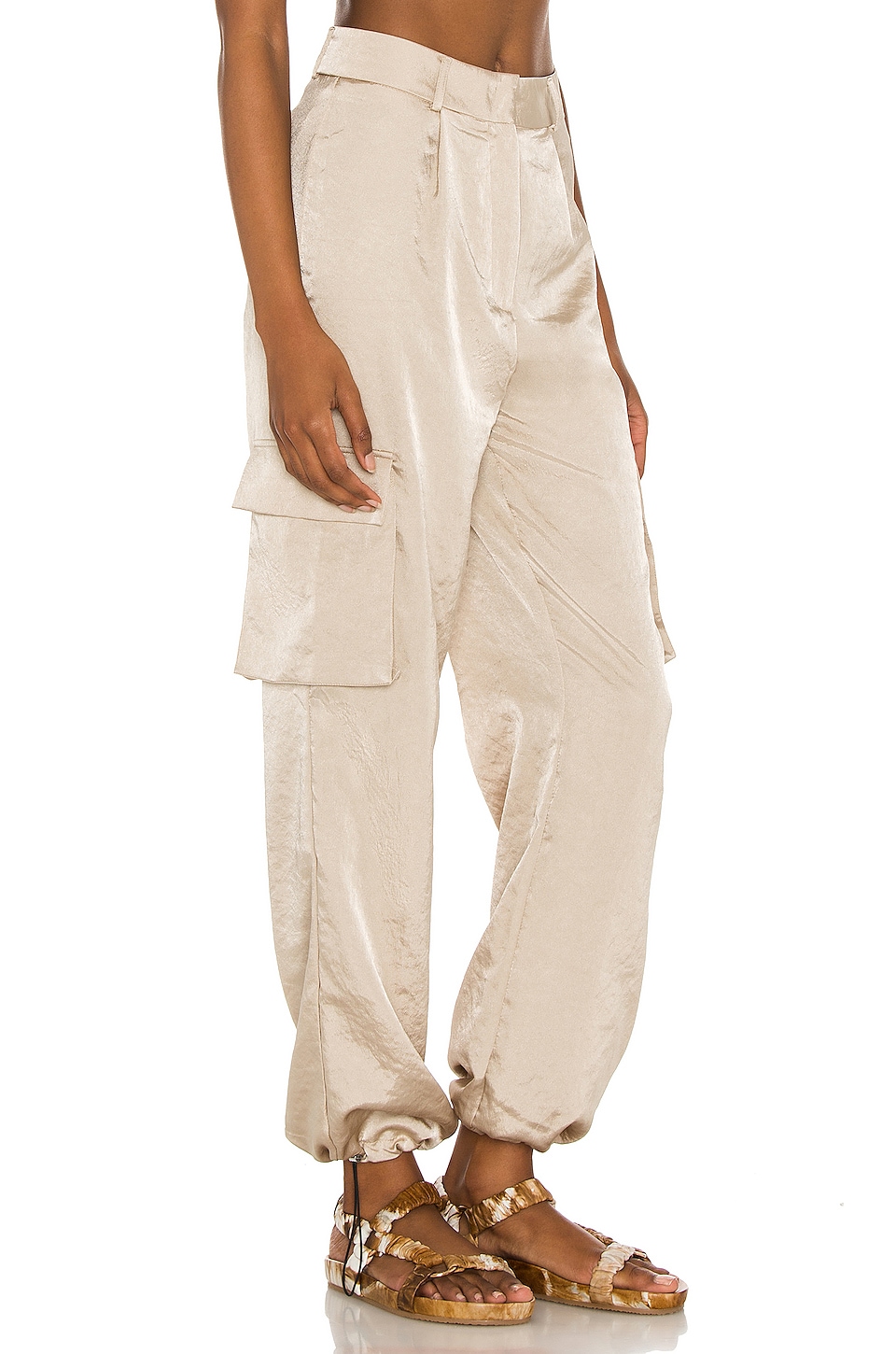 Here is a collection of other hot-weather lightweight pants I like:
THE CUTOUT BODYSUIT
Since my pants have a loose fit, I chose to pair them with a tight top.
I love how edgy this one-sleeve cutout bodysuit looks, especially in white color and on tanned skins! Generally, it is a very impressive top, ideal for an evening out, a cocktail, or a date.
The one and only long sleeve didn't bother me at all. Simply put, I didn't feel too warm because of it. The important part is that both armpits are free, so I didn't sweat or feel too warm. Instead, I felt comfortable and nice. And breezy 🙂
I wear here a size L but I recommend sizing down this one for a better hold at the breast area without slipping down unless you have a really larger bust size. You can wear a strapless bra underneath without any problems.
The exact bodysuit I am wearing is the Alessandra Bodysuit.
Other easy-breezy bodysuits I liked:
Here you will find what else I got from Revolve for this summer.
Best wishes,
Jenny