Step into style with heeled mules – the perfect combination of style and elegance. Whether high-heel or mid-heel, whether you're dressing up or down, these versatile shoes are sure to elevate your fashion game. Get ready to strut your stuff as we explore the world of heeled mules and discover how to rock this season's hottest footwear trend!
There is something enticing about heeled mules, something that awakens the divine feminine within us. They look attractive but at the same time so familiar to our everyday slippers, that we want to wear them even inside the house. But why is that? Partially due to the strong visual memories this shoe has created, i.e. the imprinted images that its history recalls on our minds. They are certainly mood uplifters and the hottest shoe style for the summer.
WHAT ARE MULES SHOES?
Mules are a type of shoe open at the backside.
They became widely known as a fashion symbol of loungewear in the 50s, the so-called Marabou Fluffy Mule. You will surely remember that iconic Hollywood housewife slipper with the heel and the feather ball at the front (often pink) that all the celebrities, like Marilyn Monroe, were wearing!
MULES SHOES DICTIONARY
Mules: Open-back outdoor shoes with no strap around the ankle. There are two versions of mules according to the front of the shoe, the closed-toe mules and the open-toe mules. Furthermore, we distinguish mules according to their heel height into flat mules, mid-heel mules, and high-heel mules.
Babouches: Flat mules with pointed toe. The name origins from a traditional type of slipper originally coming from Morocco.
Slippers: The typical indoor house shoes.
Slides: Flat shoes with open toe, often made of rubber, casual wear, sportswear, and beachwear.
Slip-ons: Flat but closed shoes with no laces, easy to put on and off. They are not open-back and they are not mules. (Not to be confused with slippers & slides, since they have kind of similar names.)
ARE MULES HEELS STILL IN FASHION IN 2023?
Yes, heeled mules are still in fashion in 2023 and they remain popular both among designer brands as well as high-street fashion brands. Scroll down to the bottom of this article to find the best designs I have found online for this year, organized per color and per price.
CAN YOU WEAR MULES YEAR ROUND?
You can wear mules all year round with the appropriate clothing and styling, but you will wear them easier, in spring, autumn, and summer. Both mules heels and flat mules are very versatile and give much style to an outfit.
ARE MULES ONLY FOR SUMMER?
Heeled mules are ideal not only for summer but for spring and fall as well. They make such a good pair with a bit heavier clothing, like jogging pants and a hoodie for a sporty chic approach, or with pants and a coat for fall.
CAN YOU WEAR HEELED MULES IN THE WINTER?
Yes, you can wear heeled mules also in winter! Based on the front of the shoes, there are two versions of mules: the closed-toe mules and the open-toe mules. The closed-toe mules are usually ideal for autumn, winter, or even spring, whereas the open-toe mules are the best choice for summer, without meaning that the ope-toe cannot be perfectly pulled off also during the other seasons. On the contrary: open-toe mules look sensational also in autumn and winter ensembles.
Especially during the festive season some pairs of open-toe heeled mules look extremely good with black tights. Sparkly metallic hues, like silver, and gold, or bold colors like metallic blue or metallic fuchsia, all look excellent when paired with black tights. Of course, out of all seasons, winter is the least practical for heeled mules, but there are definitely instances where you can wear this shoe. We would say that, during winter, heeled mules hold proudly the role of the 'special occasion' or 'party shoe' in our wardrobe!
ARE HEELED MULES COMFORTABLE TO WALK IN?
There are critiques about heeled mules not being comfortable walking in. However, I own several pairs and in my experience, I never came across a pair with which I had that much of a problem with walking. I think that walking comfortably in a shoe heavily depends on 4 factors:
The width of the heel: Is it a stiletto, or a block heel? The thinner the heel, the more uncomfortable to walk.
The height of the heel: the higher the heel, the more uncomfortable to walk.
The width of the strap at the front, known also as 'vamp': the narrower the vamp, the more uncomfortable to walk.
The position of the vamp: the lower positioned the vamp is, the more uncomfortable to walk.
The role of the vamp
The vamp plays actually a very important role in the comfort a shoe can offer. Keep in mind: The higher the vamp comes in a shoe, the more the foot is supported during walking. I have experienced not being able to walk with a shoe, not with heeled mules but with a pair of heeled sandals, in which the vamp was so narrow (only a thin strap) and placed so low at the front near the fingers, that the shoes couldn't follow my feet as I lifted them from the floor to walk and I had to drag them. The rule goes like this: the thinner/higher the heel & the narrower/lower the vamp, the more uncomfortable the shoe is to walk in.
Tip: If you know beforehand that you are going to walk long distances on a specific day, then selecting any kind of heeled shoe is not the wisest option. Walking long distances with shoes not made for walking can be bad both for your feet and for the shoes, as they may get destroyed. This happened to me while walking in Venice with my flat mules (babouches).
WHAT TO DO IF MY MULES DO SLIP WHILE WALKING?
If you already own a pair of mules that do slip while walking, then you can follow these tips:
Try wearing them without tights, socks, or stockings, since bare feet tend to sweat and stick easier to the shoe.
Try utilizing a tactic that models on the catwalk utilize: Use some fashion tape or regular adhesive tape. Double it over by turning the sticky side out. Press the tape firmly against the slide's sole in the front. The tape method can be used also for other things to stay in place, such as dresses with very deep V-necks or high-knee boots to stay on their height.
WHERE TO BUY HEELED MULES
There are so many designer and high-street fashion brands with new mule designs popping up all the time, but you actually don't have to go anywhere searching, because I have curated for you the hottest designs for this summer for all budgets. Scroll down to see them. 🙂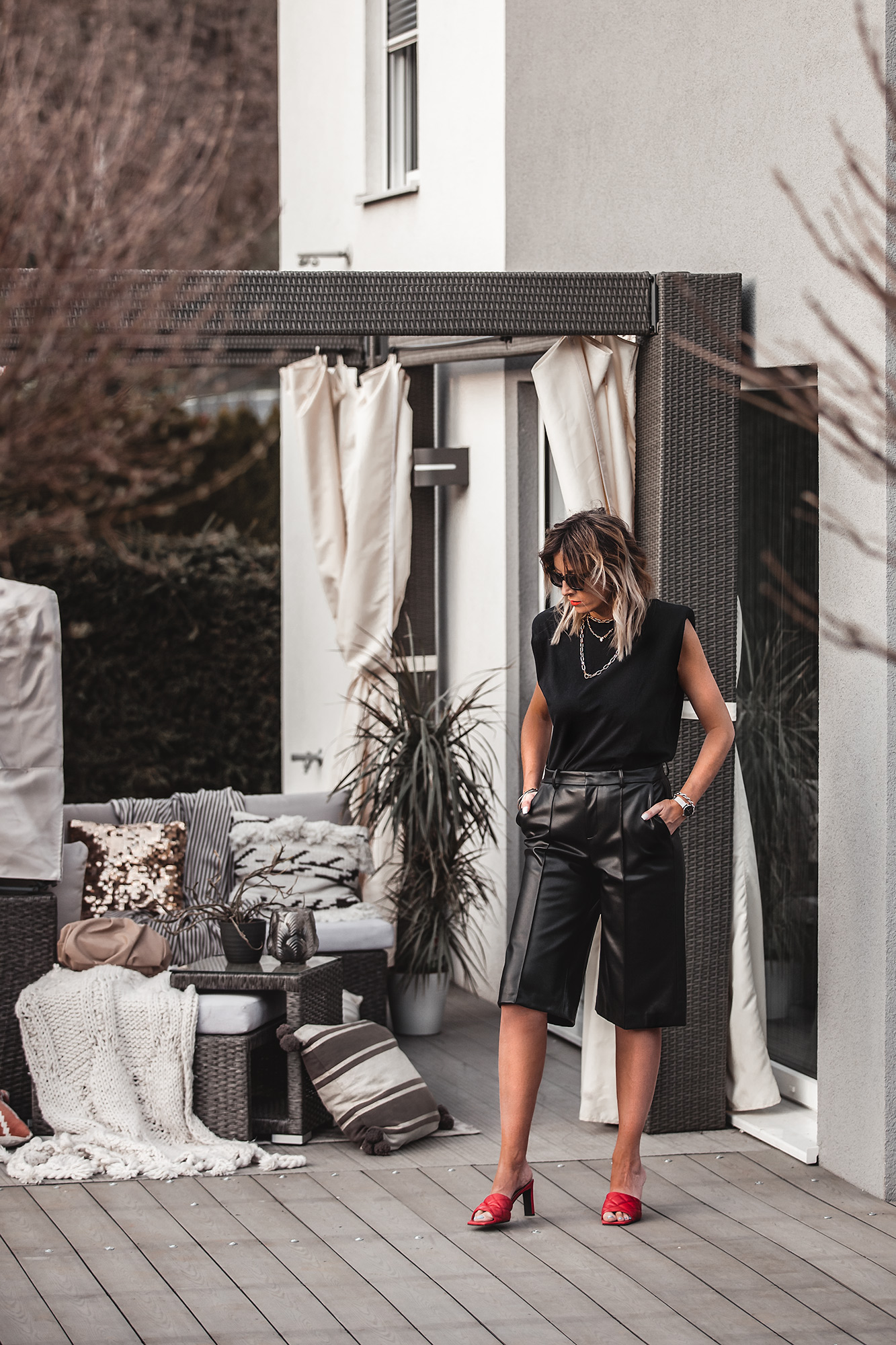 THE BEST HEELED MULES FOR THIS SUMMER
There are so many pairs that I am eyeing right now. Special side note on the creativity of JW Anderson and Cult Gaia, whose designs are my new obsession. Totally in love with them.

*This post contains affiliate links
BLACK HEELED MULES – $$
BLACK HEELED MULES – $$$
BLACK HEELED MULES – $$$$
RED HEELED MULES – $
This year quilted textures are trending, especially in bags and shoes. I definitely like mules in many colors, but red looks so bold, plus it offers the possibility to throw in a small accent of color in total black or total white outfits.
RED HEELED MULES – $$$
CLEAR HEELED MULES – TRANSPARENT – $$
CLEAR HEELED MULES – TRANSPARENT – $$$
CLEAR HEELED MULES – TRANSPARENT – $$$$
WHITE HEELED MULES – $$
NUDE HEELED MULES – $$
NUDE HEELED MULES – $$$
NUDE HEELED MULES – $$$$
OTHER COLORS HEELED MULES – $$
THE PADDED SHOULDER T-SHIRT
A T-shirt with padded shoulders gives another dynamic and an easy and undeniable upgrade of the plain T-shirt to every outfit. Most importantly, it is flattering for the body and so easy to style. I have it in black and white, but I also like it in all the basic colors, like beige and grey.
THE KNEE LENGTH BERMUDA SHORTS
Finally, the knee-length bermuda shorts have been already here for a while. We have seen these long shorts in various ensembles and street-style looks. We have seen them in denim form, in linen fabrics, as two pieces co-ord sets, or as separates. Personally, I like the leather version, which I find more edgy. Leather remains relevant throughout the year and these leather bermuda shorts can be perfect in spring or even on summer nights as well, depending on the weather of your geographical latitude.
Now that you know a little bit more about mules and heeled mules, get ready to select your favorite pair and get creative with your outfits! If you have any questions, write them in the comments.
xx
Love,
Jenny