If after some time of living in our old favorite loungewear, they feel somehow well-worn and boring, guess what… It's time to treat ourselves to a couple of new comfy and cozy loungewear sets. After all, there is no better feeling than relaxing at home in your new soft, comfy, and cozy loungewear. Below you will find some of the best pieces of cozy loungewear for this summer to feel comfy but stylish.
COMFY BUT STYLISH COZY LOUNGEWEAR
During the previous years, when we all experienced some 'stay home' periods, we had the chance to appreciate good and comfortable loungewear a little bit more! Not only do these pieces help us to relax and create some peace of mind, but they also offer a relaxed and effortless look that can be easily dressed up or down according to our mood.

Below you will find all the pieces I am eyeing currently. I love the desert and the mocha tones, as well as the cute loungewear sets consisting of shorts.
FAVORITE BODIES AS COZY LOUNGEWEAR
It's no secret that I am a big fan of open back tops! The one I am wearing here is actually a body and it's very comfortable. I like its ribbed material and the fact that it can be dressed up or down very easily. Generally, a unique but comfortable body under a cozy cardigan is another very nice way to feel sexy when at home. The below are of a super low price:
SHOES FOR YOUR COZY LOUNGEWEAR FOR IN- & OUTSIDE
Flat mules are the perfect go-to shoes for every in- & outdoor situation. I wear them while working at home, picking up the kids from school, or running errands. They are also the shoes I prefer to wear when I invite friends at home. There are so many good designs currently available but I prefer the minimal ones. I also love clogs and flat sandals because I find them very practical and comfortable for in- and outside. Below you can have a look at some of my favorite pairs currently.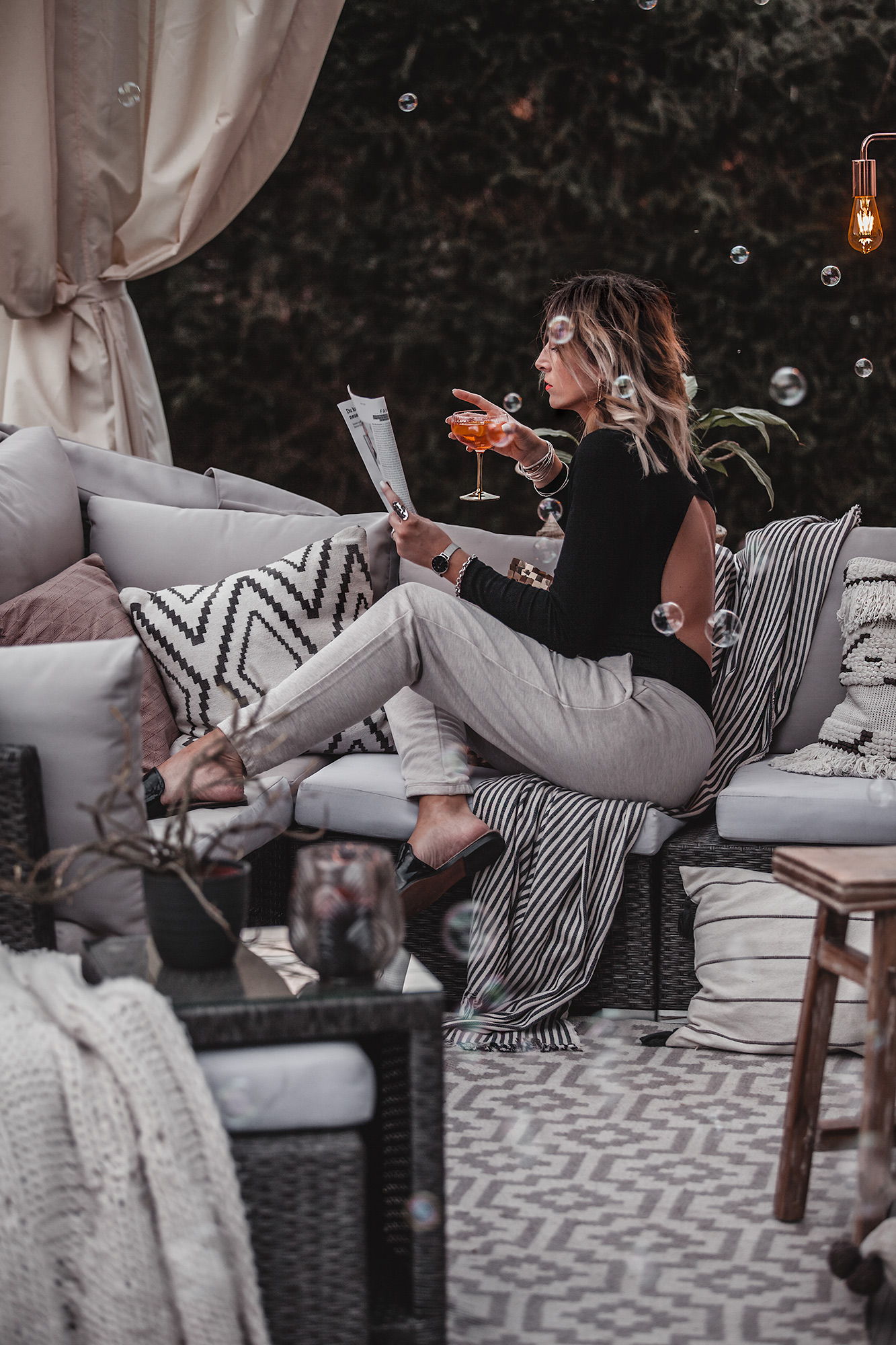 PATIO DECORATION
Thank my kids for the soap bubbles 🙂 They wanted to create an atmosphere for the photo! I love wearing loungewear in the evening while sitting on my outdoor patio, enjoying my drink and nature, reading a book, or taking a nap. Here in South Austria, and only about 10 minutes away from the borders of Italy, we have very sunny weather and a mild climate, which allows us to enjoy about 8-9 months of the year in the garden/patio and I am so thankful for this. Of course, during chilly weather, the cozy throw blankets, the pillows, and the outdoor rugs keep us warm and allow us to elongate the 'outdoor period' of the year.

By the way, if you need ideas to create your happy outdoor corner at home, below you'll find some of my favorites for decorating a patio or a balcony. I've linked my favorites for both readers of the Europe market (I bought mine online from Germany) and readers of the US market.
EUROPE
US
Do you enjoy wearing loungewear? What's your favorite loungewear piece for wearing at home? Let me know in the comments!
Also, here's a shopping guide for some of the best loungewear for spring and summer, and if you are wondering how you could wear loungewear also outside, then check this post for an outfit idea.
xx Love, Jenny.
SHOP THE POST