After 2 months of living in our old favorite loungewear, it is normal that they feel somehow well worn. Therefore, now is the right time to treat ourselves with a couple of new good and comfy sets. Because after all, there is no better way to relax and feel good at home than in your new favorite comfy but stylish loungewear.
At the beginning of this "stay home" period, I wasn't in the mood for wearing loungewear and preferred to wear my normal clothes. It was my way of coping with the situation, creating a positive mindset, and the perception that the change was temporary and wouldn't last long. In the meantime, I admit I have appreciated good and comfortable loungewear a little bit more!
COMFY BUT STYLISH LOUNGEWEAR
Below you will find all the pieces I am eyeing currently. I absolutely love the Sahara and the mocca tones at the pieces below, as well as the cute sweat and lounge short sets included.
OPEN BACK BODY & FLAT MULES
It's no secret that I am a big fan of open back tops! The one I am wearing here is actually a body and it's very comfortable. I like its ribbed material and the fact that it can be dressed up or down very easily.
Flat mules are the perfect go-to shoes for every in- & outdoor situation. I wear them while working at home, picking up the kids from school, or running errands. They are also the shoes I prefer to wear when I invite friends at home. There are so many good designs currently available. Below you can have a look at some of my favorite pairs.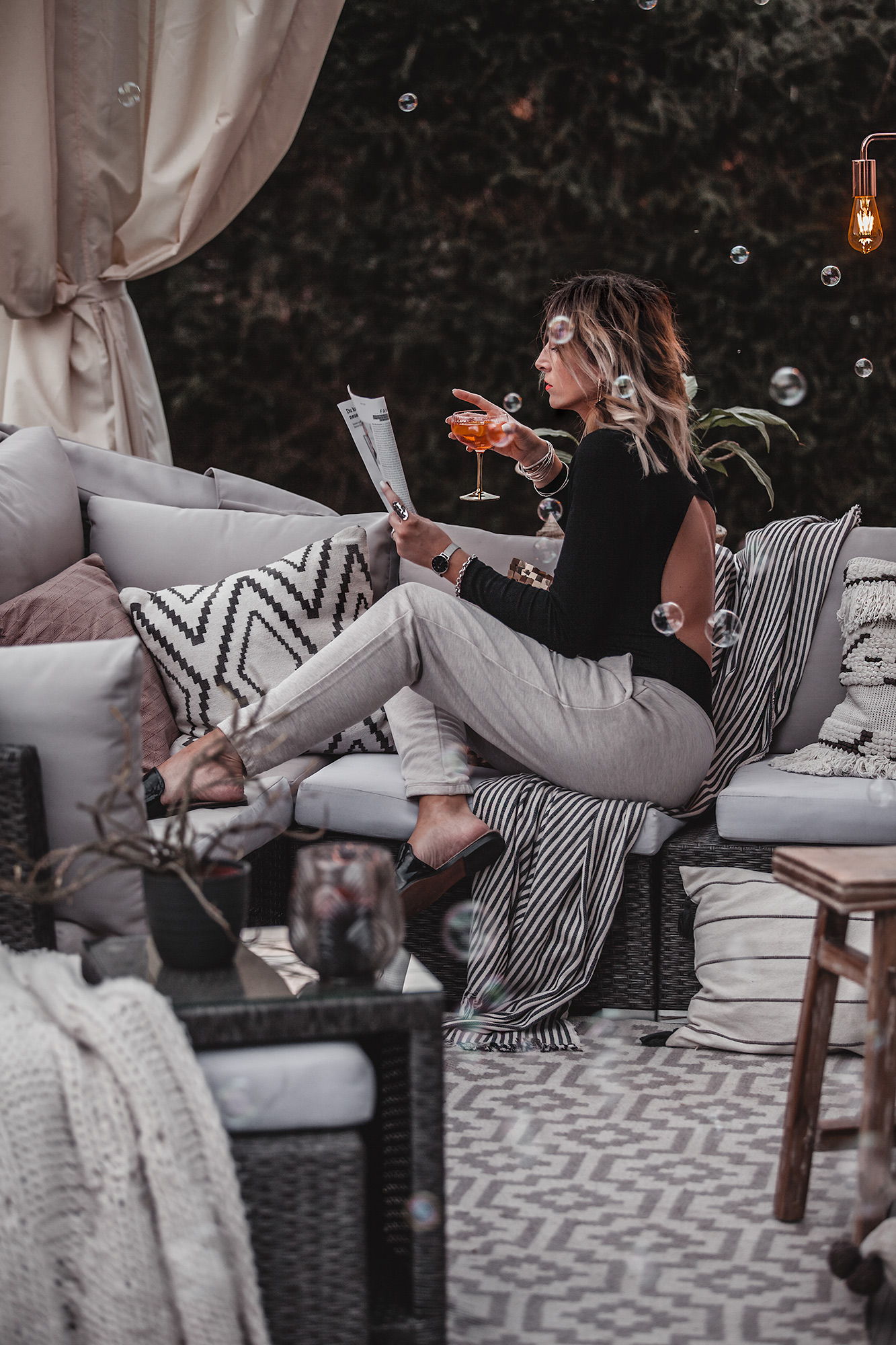 PATIO DECORATION
I absolutely love wearing loungewear in the evening while sitting at my outdoor patio, enjoying a drink and some time outside. By the way, if you need ideas to create your favorite happy outdoor corner at home, below you'll also find some of my favorites for decorating a patio or a balcony.
Do you enjoy wearing loungewear? What's your favorite loungewear piece for wearing at home? Let me know in the comments!
Also, here's a shopping guide for some of the best loungewear for women for spring 2020.
Stay safe! Love, Jenny.
SHOP THE POST